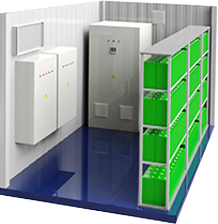 Why is energy stored?
Both the global and the Russian electricity industry are one step away from transforming the basic technological principle of matching the level of generation and consumption at a single point in time. This breakthrough technology will allow for the separation of generation and consumption from energy storage. It will completely change the entire dispatch system, the ratio of traditional and alternative electric power, and many other things related to it.

A. B. Chubais
How to store energy?

Electrochemical
storage systems
Lead-acid
Li-ion Lithium-ion
Li-Pol polymer-ion
Nickel-cadmium Ni-Cd
Zinc-bromine Zn-Br

Electric
storage systems
Capacitors
Ionists
Superconducting magnetic energy storage (SMES)

Mechanical
storage systems
Gravity
Gyroscope
Spring
Gas
The use of a particular type of storage depends on a variety of technical and economic factors, including customer preferences. Our company closely cooperates with various Russian and international companies that produce energy storage systems and can also integrate storage into an electricity supply system. We are ready to offer a comprehensive solution to solve all of our customers' problems.